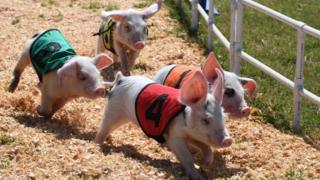 A food festival has chopped a live pig racing event after protesters raised concerns about the animals' welfare in roasting temperatures.
Winchester Cheese and Chilli Festival scratched plans for the porcine steeplechase after an online petition amassed 46,873 supporters.
Organisers said they were looking for a "non-animal alternative" for the event at the city's Garrison Ground.
Protesters praised the "compassionate decision".
Six rare breed pigs were due to race over hurdles at the event.
'Overwhelming opposition'
Charity Animal Aid said forcing them "to run in front of potentially loud crowds in scorching heat" would have "caused these sensitive animals undue stress, in addition to the distress and heat produced through transportation".
Campaign group, Pigs Don't Race, which started the online petition, thanked the festival's organisers "for listening to overwhelming public opposition and making this compassionate decision".
In a statement organisers said: "Due to the continued hot temperatures and having sought the advice of the RSPCA, the local authority and the pig operator, we have decided to withdraw pig racing from the event.
The festival is due to be held between 18-19 August.

You may also be interested in:

Read more: http://www.bbc.com/news/uk